Transylvania on the world map of bioinformatics research
International teams of researchers and consortiums are strengthened by a mid-size Transylvanian company, Egnosis, which uses its software engineering experience to find inventive solutions to global medical issues. Several years of devoted work reached a bold level by recognizing the potential of a partnership between Egnosis and Pro-Vitam Diagnostics and Research Centre, which has significant added value. While engraving Transylvania on the world map of bioinformatics research, local experts create intellectual property that benefits the local community.
Digitalization, a must-have
Digitalization remains the voice for cutting-edge technologies, as it is no longer an option but a crucial framework both in the private and public spheres. It also marks the field of medicine as more and more undertakings concern paradigm shifts, while artificial intelligence and machine learning deliver unlimited opportunities for the future of medicine. As a basis, international openness and funding are available; only between 2014-2020 did the European Union support R&D and its integrations with 80 billion euros within the Horizon 2020 scheme. The EU also launched the Innovation Radar platform to showcase global research and innovations. So far, from Szeklerland, only Egnosis by Gnome Design has been listed on this forum, among a few other actors throughout Transylvania.
About Horizon Europe at Egnosis
Egnosis opened up to bioinformatics research and development in 2019. In the vision of executive director Bela Bihari, their Horizon Europe projects go beyond theory and focus on the business potential of medical innovations. The end products of EU projects often remain in the dissemination deck; outcomes and inventions don't enter the economic cycle. However, the EU provides the necessary financial resources, so the local market does not pay out the product, as it is usually the case for "traditional" IT outcomes. Moreover, intellectual property does not migrate along with the work done. For Egnosis, as a Transylvanian company, the most in-depth motivation is to exert the right of innovation and intellectual property to exploit world-class inventions foremost and enjoy its benefits with the local community.
Research and implementation at Pro-Vitam
Dr. Szilárd Fejér, researcher and head of the Pro Vitam laboratory, catches the essence of cooperation in developing new services from available data using innovative methods. According to him, the health system is well-computerized, so a large amount of valuable digital data is collected. Science can learn a lot from these data, while artificial intelligence and machine learning can give solutions to the critical question of time. Yet, these data are extremely sensitive and must be protected, and not only because of GDPR. During the cooperation, two domain-specific knowledge bases, IT and medicine, meet to create an all-in-one platform to run, develop and publish federated & privacy-preserving machine learning algorithms. The research results are first implemented at Pro-Vitam, thus exploiting full rights on the process, from accessing raw data to product and service development.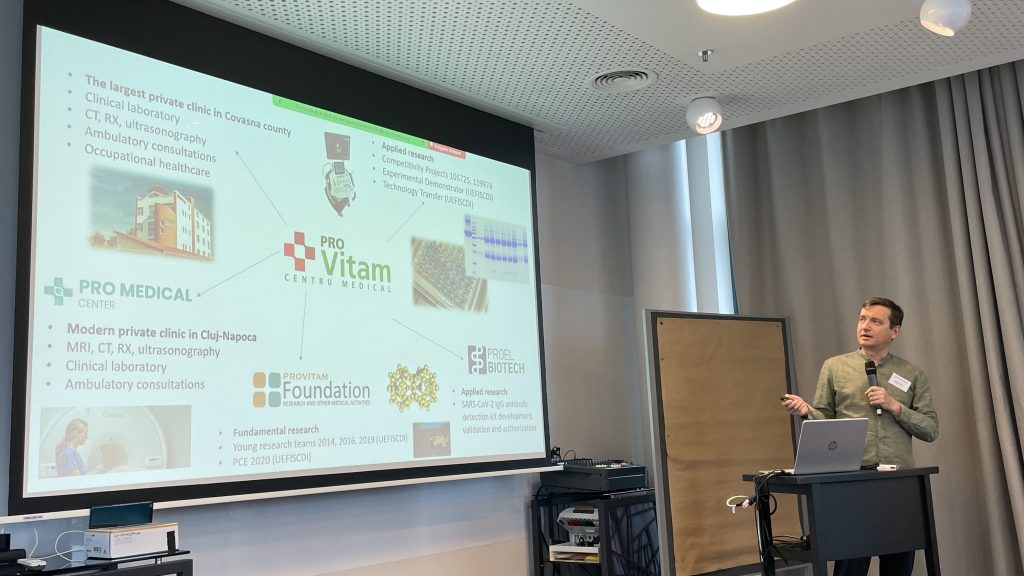 Mutual benefits of the cooperation
The two Transylvanian companies have proven that a professional partnership in this region can avoid getting lost in the maze of bureaucracy and can advance for the advantage of both domains. The challenge is continuous as the bar is set very high due to burning questions in medicine. Still, information technology and digitalization can radically change existing structures. The partnership between Egnosis and Pro-Vitam strives to show local knowledge and pertinence to contribute to a better future for medicine and mankind.